Home Design Elements Pet Owners Love
Your pet is part of the family. If you're building a new home from the ground up, don't forget to consider how you can make pet care more convenient.
One of the best parts about custom home design is that you can accommodate your exact needs; including the needs of your pets. The ideas below can be tailored to the number of dogs you have and their size.
Feeding Station
When designing the kitchen of your new home, you'll be making a lot of decisions; like what type of countertops, flooring, lighting fixtures, and cabinets you want. Most importantly, you'll have the chance to customize every aspect of your kitchen. If you're thinking about a feeding station for your dogs, you have a couple of options. You can build an area into the side of your island (or another area of cabinetry) and have your pup's water and food dishes exposed without taking up any floor room. This is a more ideal choice if you have multiple dogs. If you'd prefer a hidden feeding station, you can have your cabinetry customized to include drawers that hold your pet's food bowls as well as a drawer to store their food.
Gates
If you're incorporating pet needs into your home design, then you're likely thinking about how you can keep them contained. You can install a swinging gate or sliding half door in your kitchen, laundry room, or another area of your home. Gates can help you keep your pets in or out of designated areas.
Dog Bath
You don't have to worry about the fuss of bathing your dogs in the family bathroom. Include a dog washing station in your laundry or mudroom. Just like your shower, you'll get to pick every aspect of the design; like tiling, plumbing fixtures, and size.
Dog Bed / Crate
Built-in dog crates are becoming a hot commodity in new home design. The easiest way to accomplish a cozy crated area that takes up zero floor room is to build it into cabinetry. You can add a space for your pets in the kitchen or laundry room, under a staircase, or in the living room. Alternatively, you can leave the space open but still use it as an area for your pet's bed.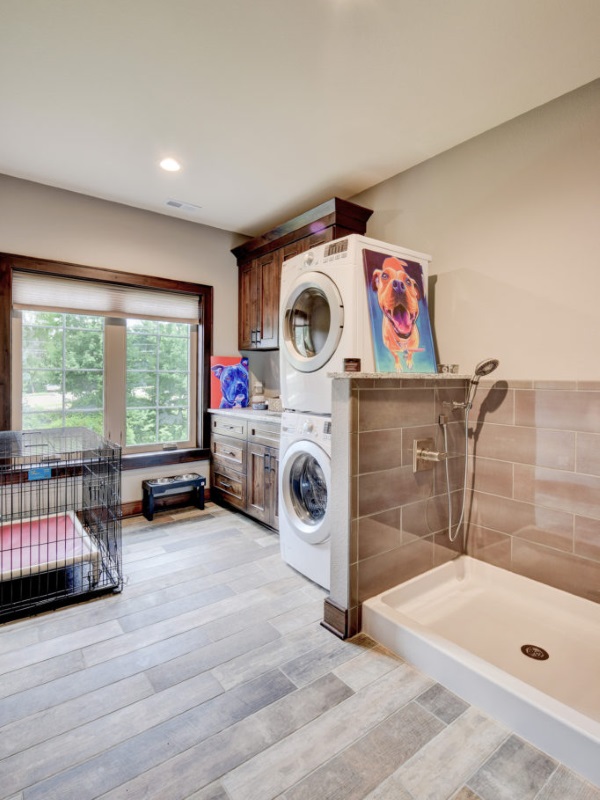 If you're building a new home in Waukesha County, WI or the surrounding areas, give Red Leaf Building Company a call to discuss a new home build and ideas for your pets.