Should You Buy or Build? | The Benefits of Building a New Home
For many, building a custom home seems like a much larger investment than buying an existing home. It's important to keep in mind, though, that when you buy an old house, your investment does not stop with the purchase. You'll likely need to remodel and upgrade to suit your lifestyle. So if you can have your dream home, for a similar price (depending on how big you're dreaming); would you buy or build?
We've broken down 5 reasons more and more homeowners are choosing to build new homes: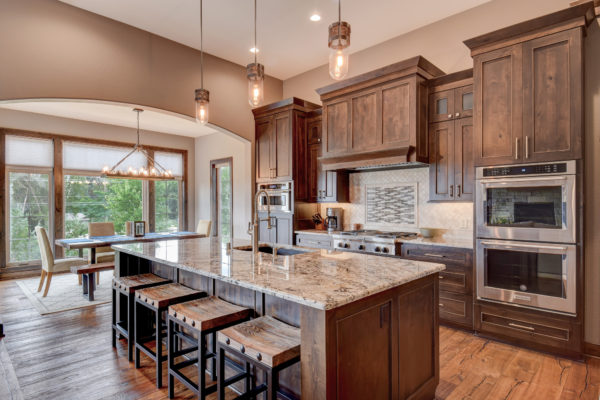 1. Custom Floor Plan
When you build a home from the ground up, you'll have the opportunity to design the exact floor plan you want. You can plan ahead and make sure your home will accommodate any future needs too, like an expanding family. If you buy an older home, you're stuck with the floor plan unless you want to invest a lot in major renovations. Many homeowners choose to build new for this exact reason. Getting to decide the placement of every room, cabinet, and nook is exciting and well worthwhile when the end product is your dream home.
2. Personalized Design
Building new promises an exterior & interior design you'll love – because you picked out every detail. If you buy an existing home, you'll likely need to remodel or redesign your interior to better match your style preferences. Custom designing a new home allows you to choose important construction aspects that may not be available in existing homes on the market. You can even add a deck or patio designed to fit your outdoor needs.
3. Long Term Cost Savings
Today, energy efficiency is a top priority for homeowners. Homes are built with energy-efficient windows, proper insulation, and new HVAC systems; making it easy to maintain an ideal indoor temperature while lowering monthly energy bills. Another area you save money when you build new is maintenance costs. When everything is new, it will be a long while before you should need to replace appliances or building materials. Everything will be under warranty too; so if you do need to replace something, you'll be covered. Buying an older home often means grappling with ongoing maintenance and costs that add up fast.
Buyers are often more interested in newer homes as well. So if you ever decide to sell, you'll likely do well if you built new.
4. Modern Home Tech
Integrated home technology is trending hard right now, and we don't expect it to slow down anytime soon. If you're interested in home automation, smart appliances, and other modern home tech; integration is easier and often cheaper when installed in a new build.
5. Prime Location
Another major benefit of building a new home is that you can choose a location that is ideal for your family and the type of build you want. Look for areas that meet your criteria in terms of the quality of local school systems, city life or rural living, an easy commute, and more. Once you know what area(s) you're most interested in, we can discuss your home dreams and what type of lot you'll need to accommodate them.
Thinking about building new in SE Wisconsin? Give us a call to discuss your options!